We are excited to announce the opening of Poppins ANNEX in 2nd floor Ebisu Mitsukoshi from September 2019.
We will accommodate students from 5 years old up to 3rd graders.
Active leaning curriculum in English such as art, science, languages(Chinese, French and Spanish) will be scheduled in the after school programme from 3 to 6 pm.
Prior to the opening, PALIS welcomes you to our PALIS ANNEX Open House on Saturday, August 31st.
We will have one hour "Free Coding Trial Lesson" to experience our ANNEX programme.
An information session will follow after the class.
Advanced reservation is recommended!
palisannex@poppins.co.jp
Date: August 31st (Saturday)
Time: ①
12 am – 13:00 pm:  Coding Trial Lesson
13:00 pm – 13:30 pm:  Information Session
Time: ②
14 pm – 15:00 pm:  Coding Trial Lesson
15:00 pm – 15:30 pm: Information Session
Ages: 5 to 9 years old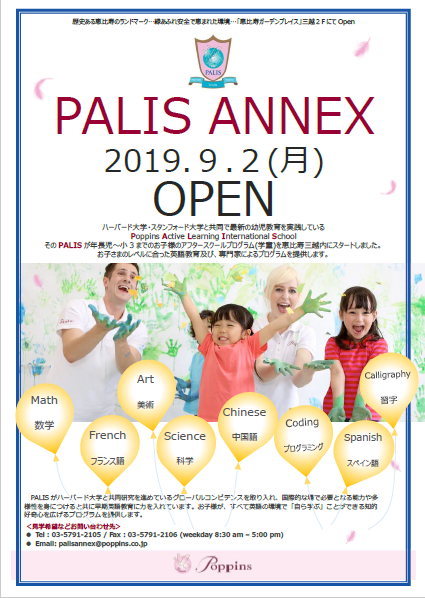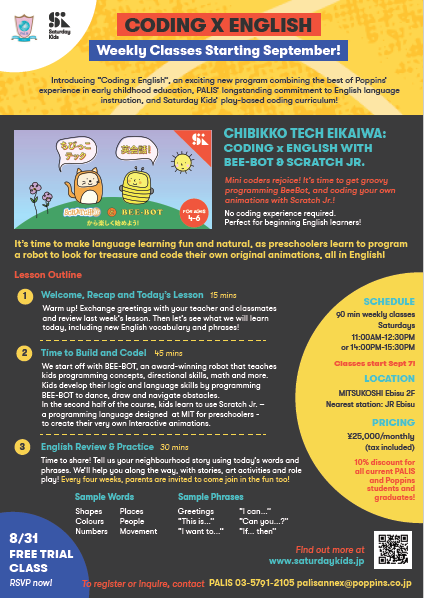 Place: Poppins Active Learning International School
Yebisu Garden Terrace Nibankan 1st FL
4-20-2 Ebisu, Shibuya-ku, Tokyo
Nearest Station: Ebisu
Contact: Tel: 03-5791-2105 / Fax : 03-5791-2106
Email: palisannex@poppins.co.jp