Our Philosophy
To Awaken in Children a Passion for Discovery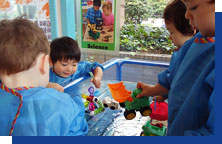 Curious and inquisitive by nature, children construct the world around them through exploration. They learn through active interaction with others and the environment. When engaged in activities, young children reach the highest level of learning that enables them to analyse their ideas in different situations. They discover and develop connections to create and think critically.
With this understanding, Poppins Active Learning International School (PALIS) offers the highest quality education for children ages 11 months to 6 years of age (before elementary school). For over 28 years, Poppins has engaged children in active learning designed to nurture lifelong skills and abilities. We provide an educational environment that is safe, positive, and intellectually stimulating. Our educational philosophy is to provide a rich educational experience with emphasis on Honesty, Gratitude, and Integrity.
The educational experience offered at PALIS is a synthesis of standards-based education and high quality childcare. We call this synthesis of education and childcare "Educare".

Active Learning Programmes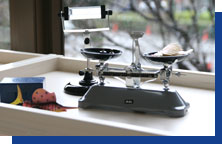 Our activities nurture learning through exploration that is authentic, interactive, and international. We promote independence by enabling problem-solving abilities rather than rote memorisation. Children strengthen their creativity and critical thinking using diverse learning methods and modalities.
To foster these abilities, PALIS features active learning programmes for science, art, music, maths, languages, physical development, lifesaving, and self-discovery time.

Activities in English and Japanese
At our international school, we seek to foster multicultural and bilingual individuals capable of participating in the Global Society. Children acquire English and native Japanese through face-to-face communication and playful activities designed to stimulate meaningful and constructive interactions. Our bilingual staff helps and comforts young children in the early stages of understanding English. We also offer Japanese-only after-school classes from 3:30 pm to 5 pm.
A Curriculum that Encourages Children's Learning and Development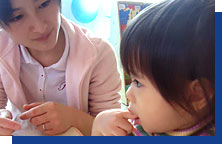 The PALIS curriculum is based on British educational standards called the Early Years Foundation Stage (EYFS). Adopted as part of the education curriculum in the United Kingdom, the EYFS reflects British history, culture, and learning in education. The EYFS is a comprehensive framework based on the learning criteria of children ages 3 to 6, including physical development and childcare. The framework requires a summative evaluation of the child's progress twice a year, including discussions with parents on how their child is progressing.